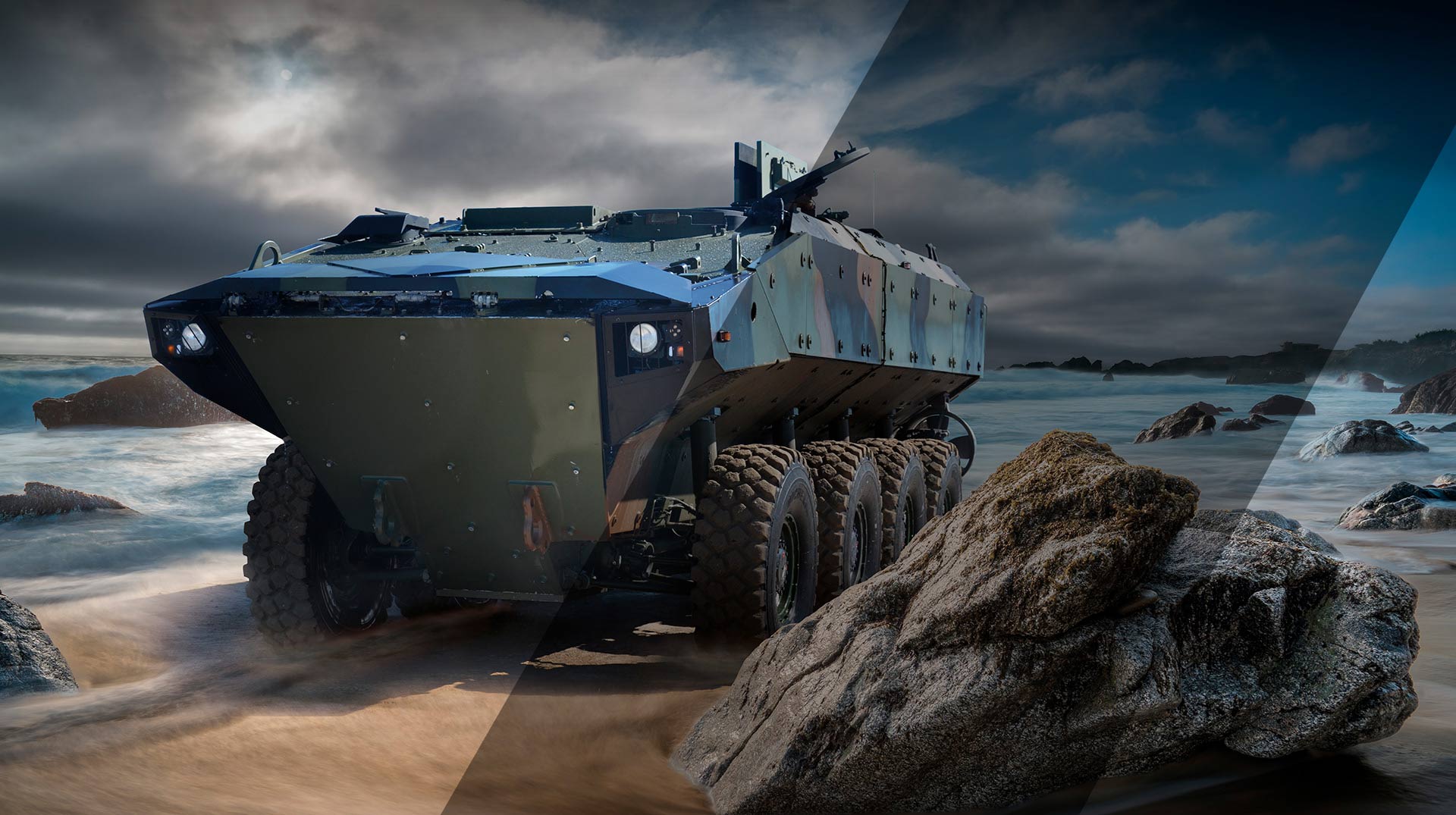 A NEW GENERATION OF AMPHIBIOUS ARMOURED VEHICLES
SUPERAV - Amphibious Armoured Vehicle 8X8
SUPPLIERS OF THE US MARINE CORPS
In September 2011, Iveco Defence Vehicles signed a teaming agreement with BAE Systems to offer the US Marines a superior solution for their Amphibious Combat Vehicle (ACV) program, based on the Iveco Defence Vehicles SUPERAV 8×8 platform. The first 16 prototypes were delivered to the Marine Corps in 2017. Over the following 15 months, the companies assisted the US Marine Corps in the Developmental Testing and Operational Assessment of these vehicles, the performance of which achieved superlative results in both land and amphibious operations, payload capacity and protection.
Thanks to this exemplary teamwork, in June 2018 the team BAE Systems and Iveco Defence Vehicles was awarded the framework contract to deliver about 200 vehicles to the USMC, with the first fielding foreseen in 2020. Under this contract, Iveco Defence Vehicles is Design Authority and owner of the Intellectual Property for the vehicular platform, and is supplying all 8×8 amphibious armoured platform design, core components (powerpack, driveline, propellers, etc.) and services.

The appearance of U.S. Department of Defense (DoD) visual information does not imply or constitute DoD endorsement.
PROTECTION
Monocoque hull with multiple
protection layers
PERFORMANCE
Sea: open-ocean capable
up to Sea State 3+ Land: 100+km/h
MOBILITY
Best in class all-terrain mobility
POWER
New 6-cylinder, 700 horsepower engine
DESIGN
Troops seat structure decoupled from
the hull and crew suspended seats
with energy absorption device
CREW AND TROOP
Up to 3 crew and 13 troops in 18m3
in protected area
ARMAMENT
RWS mounting weapons
up to 40mm calibre
SUPERAV
AMPHIBIOUS ARMOURED VEHICLE 8x8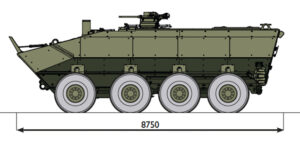 Technical Sheet

Technical Features

Length

8750 mm

Height

2790 mm

Overall width

3120 mm

Approach angle

42°

Departure angle

43°

Personnel embarked

up to 3 + 13

Empty weight

27,500 kg

Payload

4000 kg

Gross Vehicle Weight

31,500 kg

Internal volume

>18 m3

Max. speed land

> 105 km/h

Max. speed water

6 knots – > 11km/h

Gradient

>60.0%

Side slope

>30.0%

Range on road (at 70 km/h)

>700.0 km

Step

>0.65 m

Trench

>2.0 m

Turning circle radius

15 m

Engine

IVECO Cursor 16
Turbocharged
Intercooler

Fuel

Multifuel

Power

700 hp (515 kW)

Torque

3000 Nm

Gearbox

ALLISON 4800 SP

Number of gears

7 + 2 r

AMPHIBIOUS OPERATION

Sea State >3
Hydraulic-powered independent propellers
Trim Vane
Ship to shore Capable
Bilge Pumps

Driveline / Suspension

Single differential twin-shaft design
Independent Hydro-pneumatic McPherson Style suspensions
Steering on 1st and 2nd axle (opt. 4th)
Transversal differential lock
Disengageable front axle

Wheels

16.00 R20 XZL
Central Tyre Inflation System (CTIS)

Electric System

Built-in Diagnostic System
>900 A User Available Power

Survivability

High hardness monocoque steel hull
Direct fire ballistic armoured
A/T mines protection
Anti-mine seats
Automatic Fire Suppression System